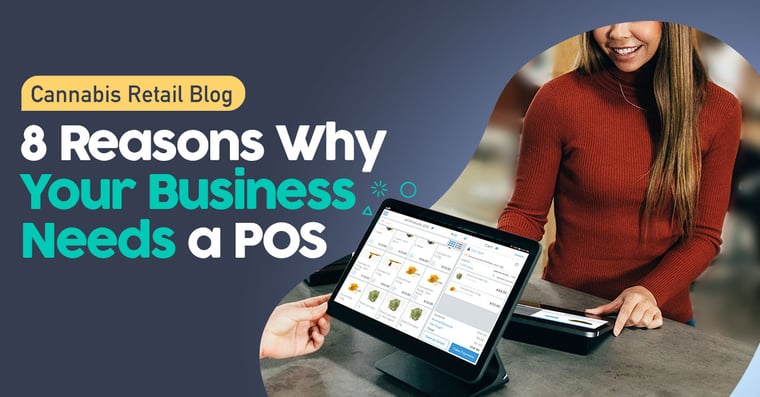 With the continued legalization of the recreational and medical use of cannabis, the industry has flourished considerably, attracting more and more people to this market. But of course running a dispensary business is not easy. Let's say you've overcome all the hurdles, solved all the legal hurdles, found a good supplier, hired a reliable and competent team, and you're ready to celebrate the opening of your new business with a bottle of champagne. But wait, did you forget something?
You can't start your business without a reliable cannabis POS system. While you may think you already have a regular POS system for your dispensary, more is needed. While that might work fine, a cannabis-specific POS system for your dispensary makes life much easier. Here are eight reasons why you need a dispensary point of sale system. But first, what is a dispensary POS system?
Dispensary POS System Overview
Dispensary point-of-sale systems allow cannabis retailers to operate their business by performing their transactions and processing customer payments. These POS systems have many features in common with an ordinary POS system.
Additionally, a dispensary POS system has other additional features specified for the cannabis industry, which can significantly improve the customer experience.
Everyone in the dispensary can use the system and perform and track every transaction from manager to cashier. Dispensary POS systems empower business owners and managers to leverage data and tools to make better business decisions.
Do you need more reasons why you need a dispensary POS system? So read on.
Why do you need a dispensary POS system?
If you have just dived into the world of POS systems, you are probably shocked and confused by the huge number of POS systems available in the market, and you might be wondering why you need a cannabis industry specific retail POS system at all.
Every business has unique problems and issues that are not as relevant to business owners in other industries. A standard POS system can only take into account some of these particular concerns and find appropriate solutions for them.
When you are about to establish your cannabis dispensary, there are many factors to consider, including compliance issues, legal regulations, inventory management, and specified marketing, to name a few. . So ideally, cannabis-specific POS systems should work better than generic POS systems and cover all your concerns by giving your customers a pleasant experience.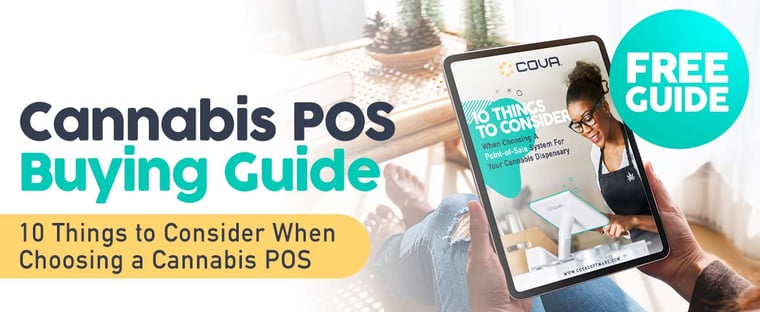 Benefits of Using a Cannabis Dispensary POS System
Now let's take a look at why you need a cannabis POS system and how it can help improve your dispensary business.
1. Stay legally complaint
All dispensaries must remain fully compliant with all applicable state laws. Any violation of these laws and non-compliance may result in the loss of the license and even a prison sentence.
Depending on the location and state laws, dispensaries must report daily, weekly, or monthly. Although these reports can be written manually, there are problems associated with them, including a greater likelihood of human error and longer processing time.
Dispensary POS systems can handle all of this without a single mistake by providing proof for all purchases. Additionally, these systems can verify age and identification and provide online ordering functionality for recreational and medical marijuana dispensaries.
Some of the most common compliance violations include
Patient purchase limits
Sales to minors
Inadequate delivery
Inadequate reporting inventory
Operation without permit.
2. Track Inventory
When starting a marijuana dispensary, you need to be prepared for all the hectic work required. It is a tedious task to track and manage inventory.
A dispensary POS system designed to address all your concerns can help you eliminate this tedious process and manage your supply in line with new market developments.
Additionally, many dispensary POS systems connect directly to the state's traceability system, which saves a lot of time and resources. The high-tech features of dispensary POS systems help provide accurate inventory reporting, display real-time menu updates, and reduce stock discrepancies.
3. Manage Multiple Locations
As an ambitious cannabis business owner, you have to consider when you start to grow your business and you have to manage multiple stores. This is one of the reasons why you need a dispensary POS system that can surpass all ordinary POS systems.
Some cannabis POS systems can run on your smartphone, laptop, or tablet, allowing you to manage all of your stores simultaneously. Check out our guidelines and best practices and learn how to add multiple locations to your POS system to optimize your operation.
4. Better customer service
The main pillar of any successful business is the satisfaction of its customers. For that, you need to provide exceptional customer service.
We have already mentioned that the cannabis industry has to deal with many banking restrictions. You can trust dispensary POS systems to help you achieve this goal.
POS systems for cannabis dispensaries offer seamless integration with all online marketplaces, eliminating this problem. Moreover, other useful features such as queue management and curbside delivery offer everyone a pleasant purchase.
Keep in mind that better customer service equals more loyal customers. So, the more you invest in these services, the more you can increase your profit.
5. Detailed customer database
One of the main reasons you need a dispensary POS system is because it allows you to collect and analyze data from your customers' buying habits. This data is a great resource for detecting preferences and new market trends and sourcing your store accordingly.
Additionally, you can use this data in customer relationship management (CRM) platforms and create customer awareness campaigns such as loyalty programs. These programs will help you build a better customer relationship which results in a more successful business.
6. Strategic insights
Knowledge is power. And it can never be more relevant than it is when applied to business. As mentioned earlier, cannabis dispensary POS systems collect a large amount of valuable data, which can give you great strategic insight into market demand.
With this data, you can make all your decisions with more confidence knowing that you have used reliable data to develop your cannabis dispensary. Moreover, you can find out more about the most demanded products in the market and stock your store with them.
7. Cannabis purchases online
Thanks to the development of technology, many people have turned to online shopping. This intensified during the covid-19 quarantine, leading many dispensary owners to consider expanding their businesses into the online world.
Keeping your operations up to date is a key part of a successful business. That's why you need a good POS system that's reliable and capable not only for your in-person customers, but also for cannabis e-commerce as well as.
With Cova's Cannabis POS System, you can expand your online dispensary footprint without worrying about changing or updating your system.
8. Loyalty programs
When opening a new business, a significant challenge that every owner faces is attracting customers to the fledgling dispensary. One of the best ways to do this is through loyalty programs.
These programs have a long history in marketing. Now, with cannabis point-of-sale systems, you can take advantage of a modified version of loyalty program digital marketing to help you track your customers' buying habits and learn about their preferences.
Demonstration of dispensary point of sale
Proud of our high quality cannabis POS systems, brought to you by a world-class team of experts, Cova is happy to help you build the cannabis dispensary of your dreams.
As an award-winning cannabis retail platform, our dispensary POS systems are the most trusted platform in this market. With Cova Point of Sale, you get e-commerce, payments, inventory management and advanced data analytics – your one-stop-shop for all your technology needs.
Start your journey now by planning your Demonstration of COVA software dispensary point of sale. Our team members will contact you soon to discuss your needs and how we can help.
Conclusion
Opening the dispensary of your dreams is a challenge, managing it and turning it into a successful business. But we must not lose hope. You can always rely on a good dispensary POS system to help you overcome many difficulties.
Whether you're looking to expand your business or are about to open your cannabis dispensary, you'll have an easier time with a POS system that's right for you. As a cannabis dispensary owner, you can manage multiple stores, online orders, delivery services, and more.
The best cannabis POS systems simplify all the problems you're afraid to face. And with Cova's advanced capabilities, you can relax and let our system take care of everything.